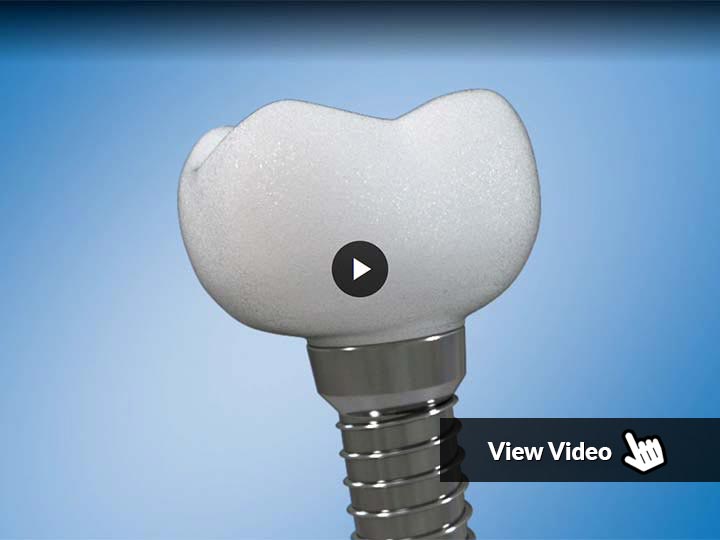 Dental Implants
Permanent, Secure Tooth Replacement
Your teeth are important! Studies have shown that first impressions, self-confidence and a person's character can all be related to how they feel about their smile. Because each tooth acts in unison with neighboring and opposing teeth, it is important to replace a missing tooth and even more important to replace several missing teeth. This will prevent bone loss and the destructive shifting of surrounding natural teeth. Watch a video, Why Dental Implants?
Dental Implants are fast becoming the best solution for tooth replacement for many patients. A dental implant is a titanium post that is placed in the jawbone to replace the root of a missing tooth. The implant serves as the foundation for a crown or bridge; full mouth dental implants may also be used to restore extensive tooth loss. Patients feel much more confident when eating and smiling when they have a complete set of functioning teeth again!
Do You have Missing or Broken Teeth?
You may be a candidate for Dental Implants.
A healthy smile not only helps you smile and chew properly, it provides important structural support for the facial muscles and skin. Having a full set of teeth is necessary to maintain the height and relationship of the upper and lower jaw.
If multiple teeth are lost, facial muscles relax and the skin begins to sag due to loss of support. This generally affects the appearance of the jaw, lips and cheeks. Jaw muscles may feel tired or sore because of inadequate teeth support.
Not only does adult tooth loss affect facial and smile appearance, without the stimulation of vital teeth, jaw bone loss will follow, putting any remaining teeth at risk.
Dental Implants are well suited to adults of all ages.
For young adult patients that have missing teeth due to sports injuries or genetics, a single dental implant to restore a missing tooth is generally the preferred option. The alternative, a dental bridge, requires drilling on support teeth and must be replaced every 5-7 years.
Watch a Video about Dental Implants to learn more.
Winterville dentists Dr. Phillip Durden and Dr. Brandon Whitworth have completed extensive training and have years of experience in the placement of dental implants. Our dentists have helped numerous patients restore their dental health with dental implant smile reconstruction.
Rebuild Your Smile with Dental Implants
Reasons for considering dental implants as the treatment of choice for missing teeth are:
Proven longevity
Ideal function
Beautiful esthetics
Preservation of existing jaw bone
Restorations do not require alteration of adjacent teeth
Excellent support for crowns, bridges, and dentures
Great solution for slipping or unstable dentures (SynCone Overdenture System)
Adaptable to individual patient circumstances
Patient satisfaction
Depending on your situation, dental implants can be placed in one or two stages:
One Stage: the implant is placed in the jawbone and immediately loaded with your new crown, bridge or denture.
Two Stage: the implant is placed in the jawbone and allowed to heal for a prescribed period of time after which a crown, bridge or denture will be placed.
Care of your implant-supported teeth is similar to the care of natural teeth. Our hygienists will assist you with an easy regimen of daily care.
FREE Dental Implant Consultations
Struggling with missing teeth? Dr. Durden, Dr. Whitworth and Team would be pleased to evaluate your individual needs. Contact us today for a FREE Dental Implant Consultation!