CEREC®

One-Visit Dentistry
CEREC® (CEramic REConstruction) technology plays an important role in our practice. This remarkable innovation in chairside dentistry gives us the tools to design, create, and place crowns, inlays and onlays in a single visit.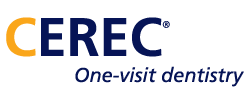 The CEREC® Difference
The traditional approach to a crown or inlay/onlay often required a return appointment after the patient waited (with a temporary restoration in the tooth) for about two weeks while the restoration was manufactured in a separate lab. Cerec® CAD/CAM technology eliminates the wait!
How does CEREC® work?
Cerec® employs a special camera to take an accurate picture of the damaged tooth. This optical impression is transferred and displayed on a color computer screen, where the doctor uses CAD (computer-aided design) software to design the restoration. Then CAM (computer-aided manufacturing) takes over and automatically mills the restoration while the patient waits. Finally, the new restoration is bonded in place. The whole process takes about one hour, and there are no annoying temporaries or second visit required!
Proven Technology
With two decades of clinical research and more than 20 million restorations performed worldwide, Cerec® has proven to be a an effective, safe and convenient technology that we are delighted to offer to our patients.
Our dentists would be pleased to discuss your individual needs. Contact Us today and Bring Your Smile To Life!